Travel as you live
Kamakura Sakanoshita
Become familiar with the sea, the city, and the mountains of Kamakura
Chartered condo in a great location
Kamakura is close to the sea, a city where you can enjoy the scenery of the mountains, and the history from ancient times remains here and there, and you can enjoy the atmosphere unique to the area that carefully protects it.
Travel is changing from "seeing" to "experiencing". By putting yourself there. I think that a journey to fully enjoy this atmosphere and foster relationships with people and places is required.
With the time unique to the relaxed ancient city of Kamakura, which has been around for a long time, we entrust ourselves to a place where we can feel the changing times.
A rooftop barbecue while feeling the sea breeze (✴), a special taste while strolling in the ancient city, a taste of small stores that cherish the four seasons, a moment spent in the endless blue sky, freeing your mind and body, and feeling the scent of the sea, sky, and wind. In addition, to enjoy the mountains that are an integral part of the formation of Kamakura, hiking goods are available in your room. For more information, please refer to the Complete Guide to Hiking in Kamakura.
I am excited about new discoveries, sometimes facing myself, and enjoying the city of Kamakura.
That is the important concept of "living trip" unique to Villa Kamakura.
✴︎ To use the rooftop area, you need to make a reservation with Kama-Crowd .
Trebel Close-upTraveling and Living on the Job: The Appeal of WorkcationsThe experience of staying at Villa Kamakura is introduced in https://style.nikkei.com/article/DGXMZO6403357018092020000000/?fbclid=IwAR1n_bjRzYI6O3XcjaxjrefvEASJKZWWl31fceBnHQJy-VfMqsgpcLaIC94

This is a report by Yuko Nakajima, a travel promoter, who actually stayed at the hotel and experienced it.Please read on.https://wlifejapan.com/2020/09/30/workation-kamakura/
Korean famous musician Hong Joo Chan
I shot a promotional video on the stage of Villa Kamakura.
Villa Kamakura is a self-check-in property with 3 rooms in Sakanoshita, Kamakura. There are two separate studio-type rooms on the 2nd floor and a 1LDK penthouse on the 3rd floor. Each room has its own kitchen / toilet / bathroom, etc., all laid out in a compact and easy-to-use manner. In addition to a double bed in each room, each room is equipped with a double air mattress that can be used when needed so that you can take a rest.
The penthouse on the 3rd floor, with its large floor-to-ceiling windows, overlooks the beautiful Kamakura Sea. You can feel the four seasons on the mountain side when you go out to the balcony where the sea breeze drifts. You can also see the sea from the window of the bathroom of the penthouse, so please enjoy the bath time that opens your mind and body.
Relaxing, Japanese modern three rooms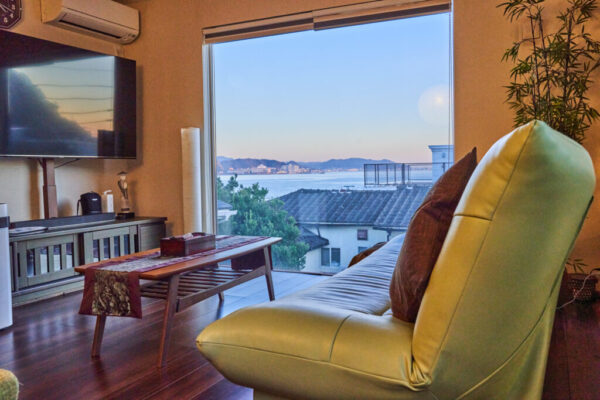 VK301
Ocean View Penthouse Suite
This is a 1LDK penthouse with exclusive use of the top floor. The large floor-to-ceiling windows overlook the beautiful sea of Kamakura. The bathroom window also has a view of the sea. The balcony next to the living room has a tsuboniwa garden with garden lights and mini stone lanterns. Please spend a peaceful time. This room has been the subject of a popular overseas artist's promotional video.
Please watch the promotion video if you like.
VK202
Seaside view double bed studio
It is a separate studio type room on the second floor of a detached house several tens of seconds from the sea, and if you open both windows, a refreshing breeze will pass and you can also see the sea. The kitchen / toilet / bathroom and other facilities necessary for daily life are compactly accommodated, and are equipped with a double bed and a double air mattress.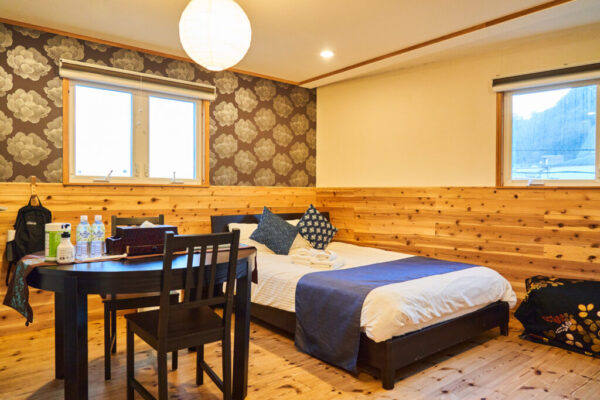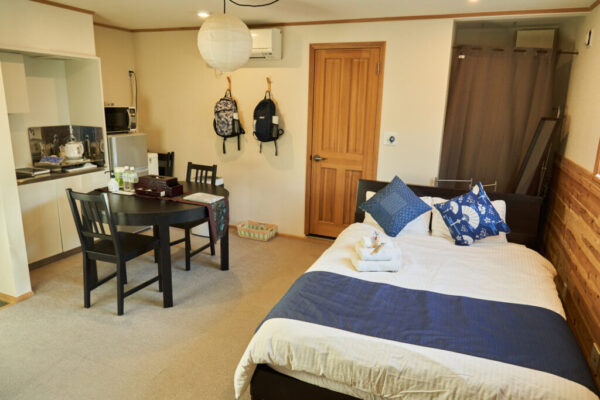 VK201
Double bed studio
A separate studio-type room on the second floor of a detached house, tens of seconds from the sea, with a kitchen / toilet / bathroom, everything that fits compactly, with a double bed and a double air mattress.

Thorough infection prevention measures

Available in 4 languages 24 hours a day

Support to live
We will pursue a sustainable future to preserve our beautiful oceans.
At Villa Kamakura, we do not provide small soaps and cosmetics that become garbage once opened, even before use.
Those are especially chosen for their high quality and environmentally friendly products.
Each slipper is disinfected and individually packaged. The materials used for their packaging are also reusable.
We ask that you bring the necessary disposable items with you and refrain from using them as much as possible.
In order to protect our beautiful oceans, we donate 1% of our sales to WWF from the accommodation fees we receive from you.
Electricity used at the facility is also contracted through AquaEnergy 100, an environmentally friendly power supply.
Towels in the rooms are always replaced with new ones.
Old towels after exchange are donated to Youth Miles.
There is a 24-hour convenience store within a 1-minute walk
Am I missing something?
Do you have a little more snacks?
I want to drink beer.
I want to eat ice cream after eating.

In such a case, it is very convenient to have a convenience store nearby.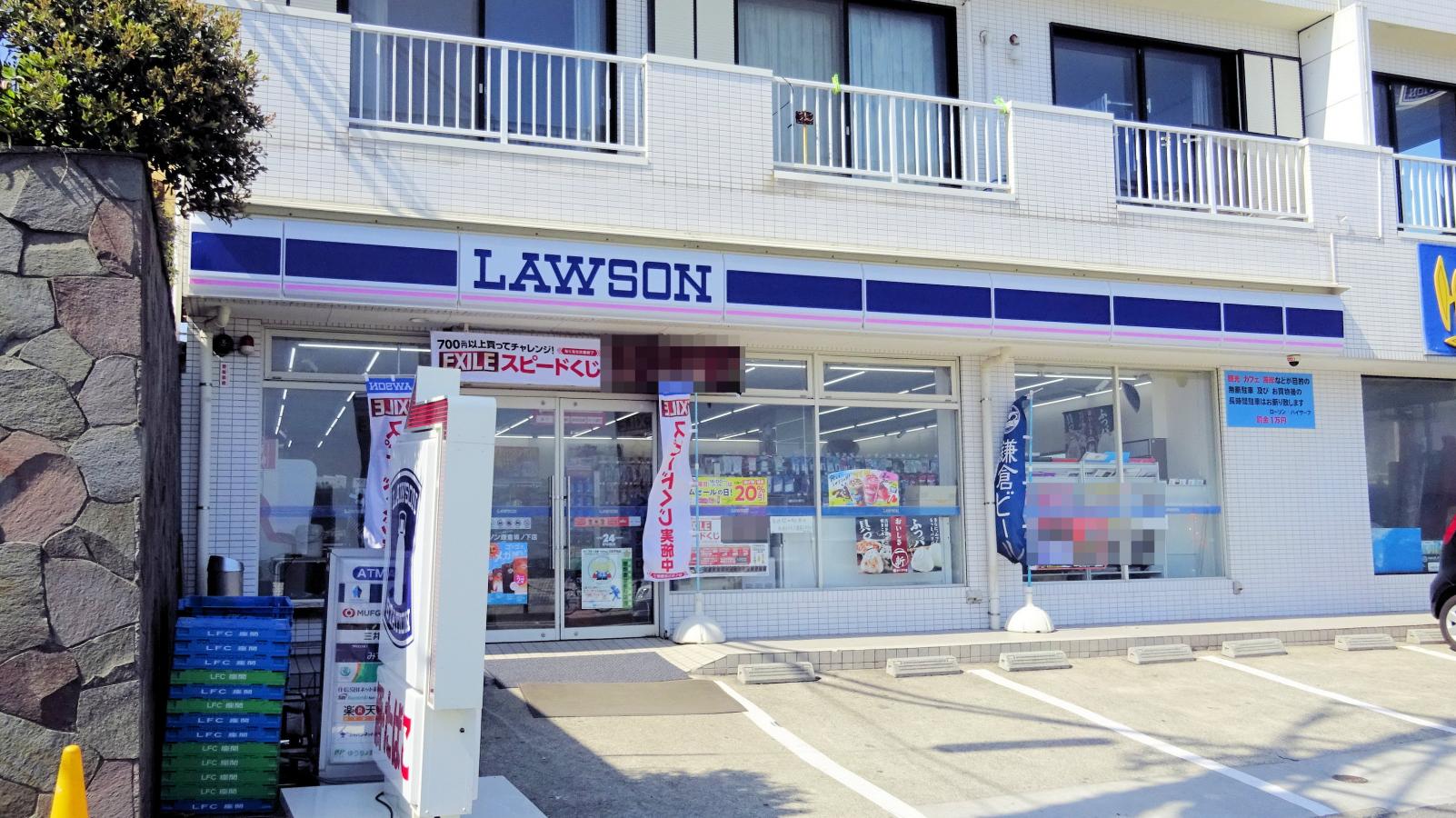 Thoughts on Villa Kamakura

I personally love traveling and have traveled to various places since I was young. The SightSeeing trip was fun and I often fell in love with the wonderful scenery.
However, it was when I felt the atmosphere of the city, the local life, the contact with people, that I remembered and had a sense of change in myself.
I run VIlla Kamakura because I want to propose such a memorable trip.
We will help you to fully enjoy the wonderful atmosphere of Kamakura Sakanoshita. Thank you for your cooperation.